Landlord Lodger Legal Obligations
Compared to the legal requirements for landlords with a tenant, the legal requirements for a landlord with a lodger is relatively simply. The actual list of limited requirements may actually be quite surprising.
Here are the legal requirements you should be aware of:
"Right-to-rent" legislation
As of Feb 2016, ALL landlords in England are required to comply with the "Right-to-rent" legislation, which means landlords are responsible for ensuring their tenant has the correct immigration status to rent/live in England.
The process essentially involves checking certain forms of ID. In most cases, a UK driving license and/or UK passport will be all that's required to be checked for British Citizens. E.U nationals also have a legal right to rent in this country, so their passport of identity card will be enough. It is important to take a copy of the ID for your own records.
For more details on what forms of identifications are accepted (particularly from foreign nationals from outside of the UK and E.U), and what you need to do in order to fully comply, you should visit the GOV website.
Gas Safety
An annual gas safety inspection is required to be done by a Gas Safe registered engineer/plumber. The inspection will involve checking all gas and pipe work to ensure they're in safe working order. Once the inspection is complete, you will receive a Gas Safety Certificate (CP12) from the engineer. A copy of the certificate should be given to the lodger.
If any faults are flagged during the inspection, you should get them resolved in appropriate time.
Besides from the annual safety check, any gas/pipe work done in the property must also be done by a Gas Safe Registered engineer. All Gas Safe Engineers will have a Gas Safe identity card, which you should check before allowing any work to commence. Here is an example a card:
If your local plumber is NOT Gas Safe registered, do not use them. You can find a local plumber that is registered on the official Gas Safe website.
Smoke & Carbon monoxide alarm
Since 1 October 2015, all rental properties in England require a smoke alarm on each floor.
If the property has a solid fuel appliance, such as an Aga cooker or open fire, the same legislation also requires a carbon monoxide alarm for each room that has such an appliance.
Most properties will already have a smoke alarm(s) installed, but perhaps not a carbon monoxide alarm as they're not as common. In any case, both are relatively easy and cheap to acquire. Here are a few options available from Amazon:
Here's a Carbon Monoxide alarm:
Here's a dual device, which has a smoke and Carbon Monoxide alarm:
For more information on the Smoke and Carbon Monoxide Regulations, please visit the GOV website.
Furniture and Furnishings (Fire) (Safety) Regulations 1987
According to this legislation, any furniture provided to your lodger must comply with it, which basically means the furniture (e.g. chairs, sofas, bed mattresses, pillows etc) must be fire safety compliant and carry the fire safety labels, like this one for example: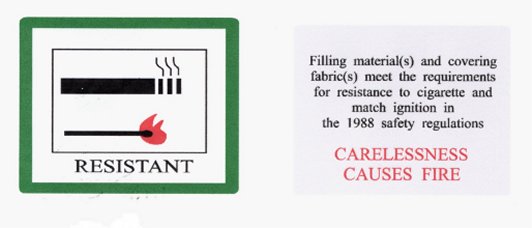 This isn't a problem with new furniture, because they have to be compliant or the it wouldn't be eligible for sale (that's the law).
There are also a few exceptions, such as furnisher made before 1950, sleeping bags, bedclothes (e.g. duvets) and mattress protectors. More details about the regulations can be found on the Fire Safe website.
Product safety regulations
You should ensure all items provided in your property, especially in your lodger's bedroom and shared living areas, are in safe working condition. This can include items like cookers, microwaves, lamps etc.
The various product safety regulations are regulated by local authority Trading Standards Offices. You can contact your local Trading Standards Offices for further information on what you need to do in order to ensure your items are all in safe working order. They are usually able to provide you with a few useful leaflets, covering all the information you need.
Income Tax
Any form of residential letting is treated as a business- even homeowners with a single lodger.
Taking in a lodger may affect your income tax rate as you will effectively be earning more, in which case you might be obligated to inform the HRMC. For more details, please refer to the Lodger Rent Income Tax page.
Council Tax
If you're currently benefiting from a single person 25% discount from your council tax, you will not be eligible for the discount if you take in a lodger, in which case you will need to update your records with your local council tax offer. For more information, please refer to the Lodger & Council Tax page.
HMO License
If you have more than two lodgers living with you, your local authority may classify your let as a HMO (House of Multiple Occupants). In this case, you may need to obtain a license from the local authorities, and adhere to a few extra safety precautions (e.g. provide a fire extinguisher).
It is best to contact your local authority for confirmation. A good starting point might be your local council's website, there is usually information on there about housing/lets.